Management and governance
EBN is an independently operating state participant with the daily supervision of EBN's activities is the responsibility of the management team. Supervision and participation are the responsibility of the Supervisory Board and the works council.
The shareholder appoints the management and the supervisory board members. Furthermore, the articles state that major decisions require approval from the shareholder.
Governance and behaviour
EBN highly values good corporate governance. For that reason, EBN voluntarily submits to the principles and 'best practice' provisions of the Netherlands Corporate Governance Code (to the extent that these are applicable for EBN). In this way, EBN follows the policy of the government in relation to state participations and the Code.
We subscribe to the principle that transparency towards stakeholders is of crucial importance. Also within our own organisation we strongly value transparency. We have a code of behaviour, a confidential adviser, a complaints committee and a whistle blower scheme.
The management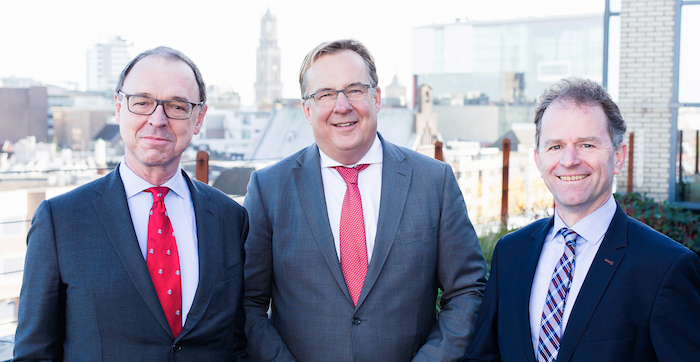 Jan Willem Hoogstraten, CEO
Responsibilities:
chairman of the management team

contact with Supervisory Board and shareholder
departments: Small Fields, Groningen, Decommissioning & Reuse
professional groups: HR, Legal, Business Development and Communication
Other functions:
member of the Supervisory Board of GasTerra B.V., Groningen
member of the Advisory Council of the Clingendael International Energy Programme
member of the Supervisory Council of the Energy Academy Europe
Cees den Ouden, Director Finance a.i.
Responsibilities:
professional groups: Accounting & Reporting, Treasury, ICT and Business Finance
Other functions:
member of the Supervisory Board of Argos Zorggroep
member of the Supervisory Board of Nesec Financieringen B.V.
chairman of Stichting Truck Claim
treasurer of v.v. Kogelvangers
Berend Scheffers, Director Strategy & Technology
Responsibilities:
strategy
departments: Exploration, Geo Energy, Consultancy & Innovation
Other functions:
member of the board of stichting TKI Gas
member of the Supervisory Council of Stichting Delft Aardwarmte Project
member of the strategic advisory council of the New Energy Coalition
member of the Supervisory Council of Nexstep
member of the board of World Energy Council